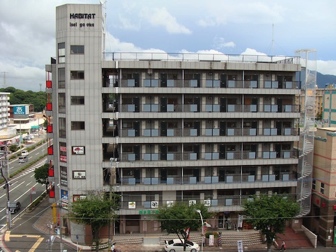 社名 : 株式会社 本城不動産

所在地 : 福岡県北九州市八幡西区千代ケ崎3丁目6-24
電話 : 093-601-0004
FAX:093-601-7310
設立 : 昭和53年12月1日
資本金 : 1000万円
代表者 : 中村 勇
免許番号:福岡県 (9)6344
登録資格:

宅地建物取引業 、管理業務主任者、 賃貸不動産経営管理士 、不動産アナリスト
Welcome to Honjo.net, the official site for Honjo Real Estate Corporation. We are based in Kitakyushu City and is your source for Residential and Commercial Real Estate properties in Fukuoka. We offer information on furnished and semi-furnished rental apartments and houses in the Kitakyushu city. We focus rental properties in Wakamatsu, Hibikino, Asakawa, Chiyogasaki, Oura, Honjo and Orio area.

We have been helping foreign students from China, Korea, Malaysia, Singapore, Hong Kong, Taiwan, Thailand, Vietnam, Sweden, Pakistan, Mongolia, etc commuting to colleges and universities. Honjo Real Estate Corporation have been working with the following educational institutes in helping the students find affordable rental apartments : Orio Aishin Junior College, University of Occupational and Environmental Health, Kyushu Institute of Technology, Waseda University Graduate School of Information, Production and Systems, and University of Kitakyusyu.

Company Name: Honjo Real Estate Corporation
Managing Director: Nakamura Isamu
Address: Chiyogasaki 3, 6-24 Yahatanishi Ward, Kitakyushu City, Fukuoka, Japan 807-0803
Telephone: 093-601-0004 Fax: 093-601-7310
Date of Company Formation: December 1, 1978
Capital: 10 Million Yen
Real Estate License : Fukuoka Prefecture (9)6344
Qualified to go into contract pertaining to management, buying, selling or renting of commercial and residential related real estates. Certified as a Real Estate Analysts, providing reliable and quality commercial and residental real estate investment advice.